Cleaning up the Loose Ends in Ancient Rome
We had plans to meet up with Lin-Wei's brother the next evening (Tuesday), so on this morning of our final full day in Rome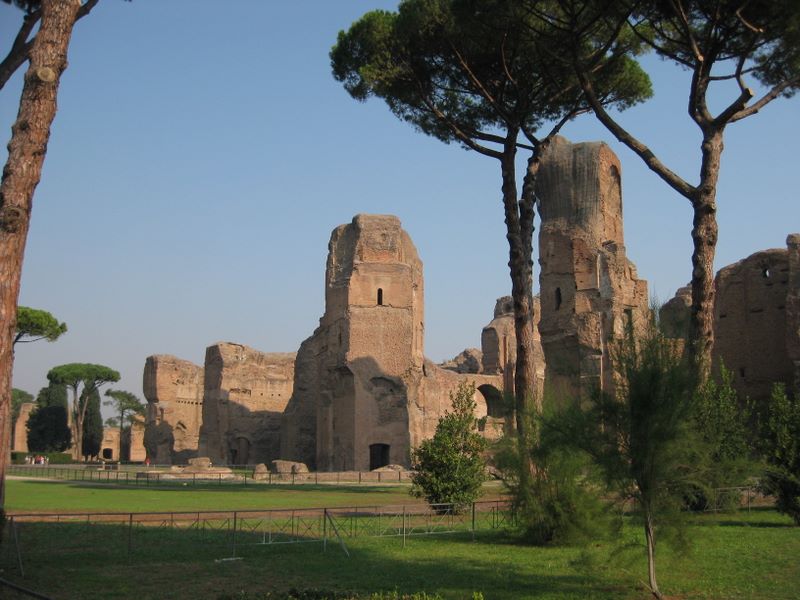 we scoured the guidebooks for any sights from ancient Rome that we might have missed, and came up with the Baths of Caracalla, also free with our Archeological Pass! Well, that had been the plan all along, but the first sentence sounds more dramatic, eh?
We had our standard tour of Roman ruins, which includes
multi-story
brick structures, cool areas where we weren't allowed to go, and German student groups. The ruins were still impressive, however, as the Baths were
ginormous
and the ruins once again made me lament for what was lost). After the tour of the
Baths

we were pretty thirsty, and saw a vendor setting up (yes we got the the ruins just as they opened, so people were still getting set up). We asked the guy how much a water was, and he replied €2. I don't know why I thought this was outrageous at the time, but I expressed my dismay at paying just a high price. The guy looked confused at first, but then got really annoyed and ripped the water out of my hands and told us to get out of there. Violent reaction!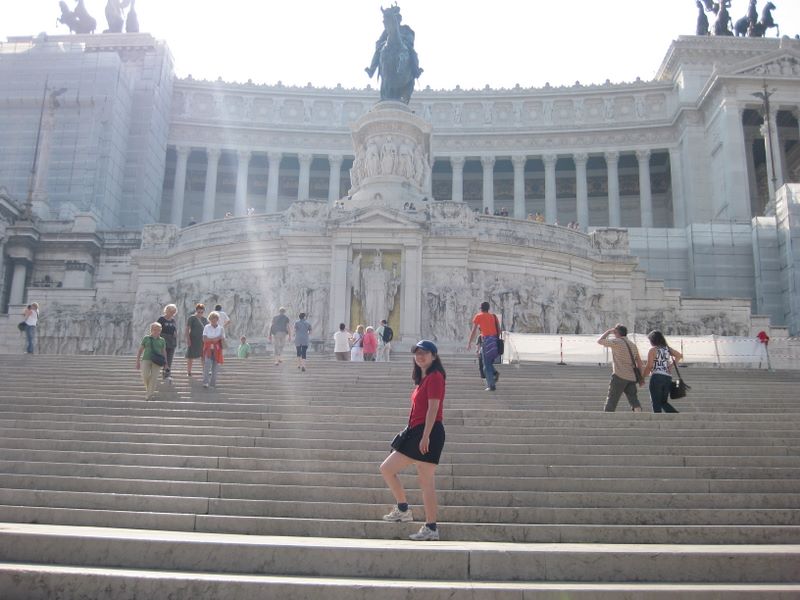 We walked from the Baths back towards the Colosseum, parched, and learned that waters here were €3. Sigh... We continued on, super parched, until we found another vendor selling them for €2 and bought a couple. Lin-Wei gave me dirty looks the entire time.
We decided to give the Capitoline hill one last try and hiked up a massive amount of stairs to the base of the Victor Emmanuel monument. There was an elevator that took you up to the top, but it was €15, and we figured we had probably spent enough money this trip on sights, and instead opted to pay the €1 to use the bathroom up there. We did, however, finally find the views of the
Forum
we were promised.
For the afternoon we did some souvenir shopping for the folks back home. I hadn't had a chance to buy anything at the Vatican the day before, and since it was lunch time there was no line. We also had lunch at the same place as the day before. I'm not sure how we tipped the previous day since the Wangs and I had to leave before we were all done, cause the waiter didn't seem happy to see us. We didn't get sick from the food, however, so it must have been ok.
More shopping, dropped packages off at our hotel, and then we took the subway over to Piazza del Popolo, where we enjoyed a nice sushi snack and some gelati by the fountain. No was was yelling in this square, thankfully. We only had to contend with the unsavory vendorts trying to get me to buy roses for my special lady friend. It's not like this was supposed to be a romantic trip or anything!
We tried to get a look at the
Mausoleum of Augustus
but it was closed. The Arc of Pais looked cool in the guidebook, but was over €10 each, so that was out.
Lin-Wei was still full of pep and vinegar and wanted to go see the
Castel Sant'Angelo
(once Emperor Hadrian's tomb, then a castle, and now a museum), but I was spent from all the walking, so I crashed on a bench and read a book about ancient Rome while she had her own adventures

. ... We met up with the rest of our party on the Spanish steps where Lin-Jye and I competed in ...
Sexiest Legs contest 2009. I'll leave it to you to decide who won. Sinilga had thanksfully done some research about food and found a place called Ristorante Al 34 nearby, and how could we pass a name like that up? The food was up to the standards of my name and we had an excellent time there. My brother-in-law must have had a little too much wine, though, cause he sort of missed the point of taking this
picture
. Lin-Wei had better
luck
.
After dinner it was back to the Spanish steps, avoiding the wizz-toy vendors and soaking in the atmosphere. I took stock of how much money we had in Euros and was surprised to find that we'd only have 5 Euros left after buying subway and train tickets the next day to get back to the airport. A nearly perfect ATM pull!
We said goodbye to Lin-Jye, Sinilga, Charlie and Shunuan, who were headed off to Florence the next day, and we took one last trip to the
Trevi fountain
. As we sat there reminiscing about our Italian adventure and gazing at the fountain, two tourist ladies came to a stop right in front of us and began to text message (each other?) for minutes upon minutes. I figured that was good for a
picture
.

Back to Reality