Part II: Roma
Rome Arrival
On the 45 minute ride to the Rome Termini station we sat facing each other, with a couple and their three year-old boy sitting next to us. The boy was on his father's lap next to me, and he pretty much squirmed the entire time, whining in broken Italian about having to sit still (I assume), and it made us smile cause we knew our kids would have been the exact same way.

He also had a terrible cough and a runny nose, which also reminded us of our girls...
steep narrow street
lacking a sidewalk, past an elementary school (poor kids, have to walk up hill to school everyday) and down another block to the Hotel Colosseum. I wasn't sure what to expect from a hotel with the name of a local attraction, but it seemed very NICE, and our room had a bed, a view of 1/16 of the actual colosseum, and an awesome shower, which was a plus in any big city European hotel.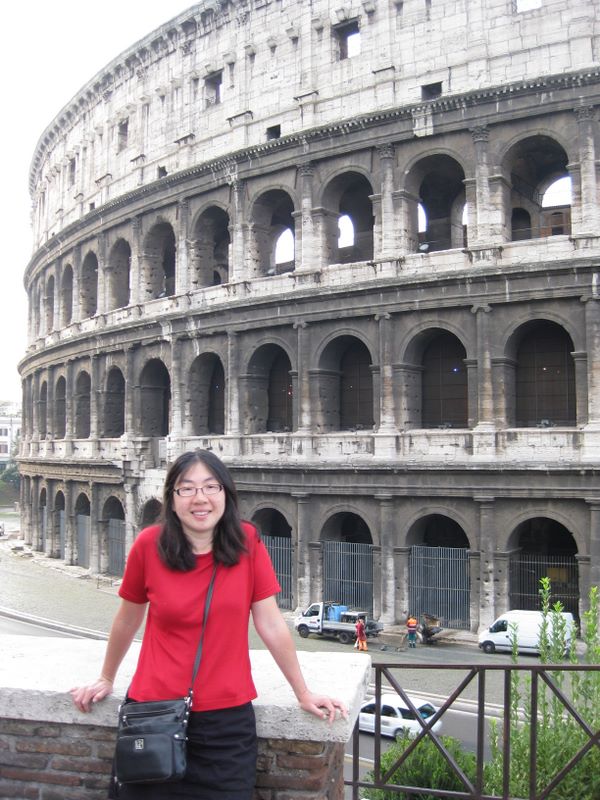 We threw our bags in the room and hoofed it back down the hill to the real Colosseum to see if we could score our
Archeological Passes
, which the internets told us we could by at the Colosseum. This got you into roughly ten of the ancient sights in Roma and environs. But we got to the ticket office at just a little past 6pm, which is when it closed. Lin-Wei was super-bummed because she didn't want to wait in line the next morning to get into the Colosseum with the rest of the chumps, so we vowed to get there early.
We had also vowed in Sorrento - after eating Italian food for seven days straight, two meals a day - to try and find something with a more international flair, and we were happy to see an Indian

place called
Sitar
a couple blocks from our hotel. 7:30, and yes we are the only people there, which was a little weird since they had three people just standing around waiting for us to finish a dish or drink. Later on one other couple arrived. Food was good and hit the spot though, and we went to bed mostly content.

A funny thing happened...