The Wedding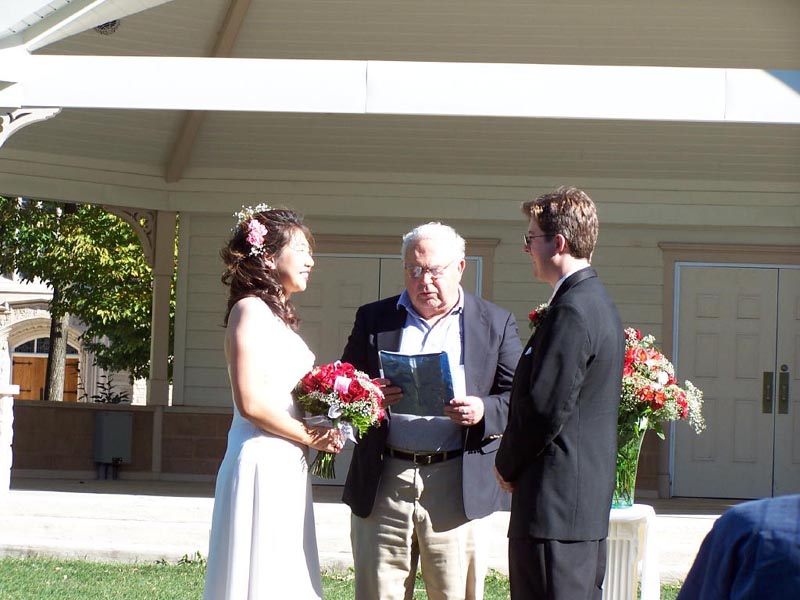 We got married

On September 25, 2004, a young man from Green Bay, and a slightly-less-younger woman from Ann Arbor, MI met in St. James park to join together in marriage. The date, as you will remember, was picked because we were leaving the next day for Italy. A few weeks earlier, we started making the arrangements. Opting for a secular wedding, Lin-Wei found a list of officiators on a Green Bay web site, and she called every one of them and left a message to see if they could officiate. The first one to call her back was a man named Owen Monfils. He sounded a little gruff on the phone to Lin-Wei, but he agreed to it.

Two weeks before the wedding, Lin-Wei Wang and I traveled to Green Bay to get our marriage license, and to meet Mr. Monfils. As soon as we walked into his office, Lin-Wei knew she had chosen correctly. Democratic memorabilia covered his walls. When I finally got to talk to him, I found him to be a very nice guy, and his voice sounded a lot like Larry Flynt.

The day of the wedding, I arrived at St. James park (just south of downtown Green Bay) about 3:30, and friends and relatives started to trickle in. I believe Lin-Wei arrived at roughly 3:50, but Mr. Monfils was nowhere to be found. 3:55, and no officiate. 4:00!, and no officiate. I glanced over at Lin-Wei, but she was hiding behind the tree so that I would not be able to see her before the wedding. Finally, at 4:05, Mr. Monfils showed up. Apparently he had gone to the wrong park. But now he was here.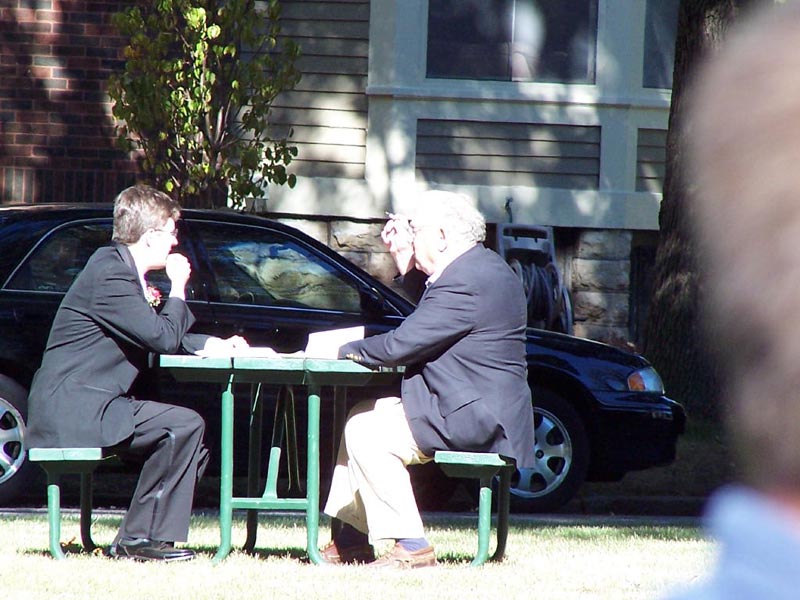 Signing the documents

I was wearing a Tux that day, and Lin-Wei had picked out a gorgeous dress. Mr. Monfils had sounded a little weirded out when we said we were getting married at St. James park, and I imagine that most of his wedding ceremonies take place in his office (possibly with the bride wearing baggier clothes?). So, he did have a sport coat on, but his shirt underneath proclaimed his allegiance to West High School (which was cool, since my Mom had gone there). Instead of starting the ceremony, he thought it was best if we signed all the papers immediately. We were already late, but he was insistent, so I had to call the witnesses over (Lin-Wei didn't have to sign just then, for some reason). The crowd was getting a little restless, wondering was going on over on the park bench, but we got the papers signed, and it was time to go! I told him that we had written our own vows, so when it came time for that, he should just let me know, and we would skip over his standard vows.

I took my position, and everyone stood as Lin-Wei was escorted down the aisle by her older brother. She looked stunning that day. The sun was shining, the temperature was perfect, and we had spent about 2 hours planning this whole wedding. Could it get any better? Yes, it could, as there were BW3 chicken wings on the menu, but that comes later.
Reading the vows

Our positioning caused the sun to be directly in Lin-Wei's eyes, and while I felt bad for her, I was happy my back was too the sun. But for some reason Mr. Monfils decided that we should turn around, so now I got the force of the sun. Dang. He started to go through the ceremony, each time pronouncing Lin-Wei's name as "Ling-wee", and I would try to whisper "Lin-way" under my breath, but it wasn't helping. He finally came to the vows, so I reached into my jacket to pull out my notes, but he started in on the standard vows! I reminded him of our hand-written vows, and we proceeding to vow each other. Most of the crowd could not here them, so I will reprint them here. This part is kinda sappy, so if you are a guy you probably want skip ahead a little bit...

Al's vows

:

Lin-Wei, you are the most important person in my life, and I promise to always make you feel like you are the most important

I will always support you in whatever you want to do in life

I will always care for you and look out for you, in sickness...and the five days a year you are healthy

I will help you with

your

housework (cooking, cleaning, laundry) every once-in-a-while

I will not always put things off to the last minute...but I will help you to relax when you get stressed

I will share my life with you, to always be open with you and never shut you out...except for Vegas. What happens in Vegas stays in Vegas.

I will not shy away from serious topics and make jokes

I'll always love you, not just on happy days, but on boring days, and especially when we argue. Never forget that.

I want you to know that I love you, and you can be secure in my love

Lin-Wei's vows

: The first time we met, you didn't remember me. The second time, same result. Good thing you remembered the third time.

I was pretty content before I met you, but since meeting you, I've been very happy.

You have always made me laugh with your wonderful and strange sense of humor. I shall reciprocate, although with less success.

You're a great comfort to me in times of need, making me feel safe and secure and taking care of me when I'm ill.

I promise to do the same and more.

I cannot wait to share a lifetime of adventures, thrills, and experience the world has to offer.

I cannot wait to experience the challenges ahead in our life together such as election time and other significant moments.

I promise to help

you

clean, do the laundry, do the dishes, and cook and make our house a home

And I promise to love you, support you and be at your side always.

And one thing you've taught me is that things will always work out in the end, especially with you at my side

Our vows were written separately, so the part about the cleaning was a surprise, and a hit with the crowd. I did get my vow in first, however, and I think that takes precedence. I imagine there is some disagreement on that point.
Husband and Wife

After our vows, Mr. Monfils went through the standard vows anyway...so we vow'ed it up twice. There were some rings, a kiss, and then, just like that, the first minute of the rest of our lives began. Mr. Monfils took us aside and told us that he was really enjoyed our ceremony. I think it was a lot different than he expected, and he seemed a little choked up. Even though there were some humorous moments, I was really glad he was there to officiate the ceremony. It was a lot of fun.

We got a ton of pictures with friends and family, and then headed over to my dad's house for food. Lin-Wei wanted BW3 chicken wings, and I wanted sushi, so Matt was tasked with getting the wings, and Aaron got the sushi.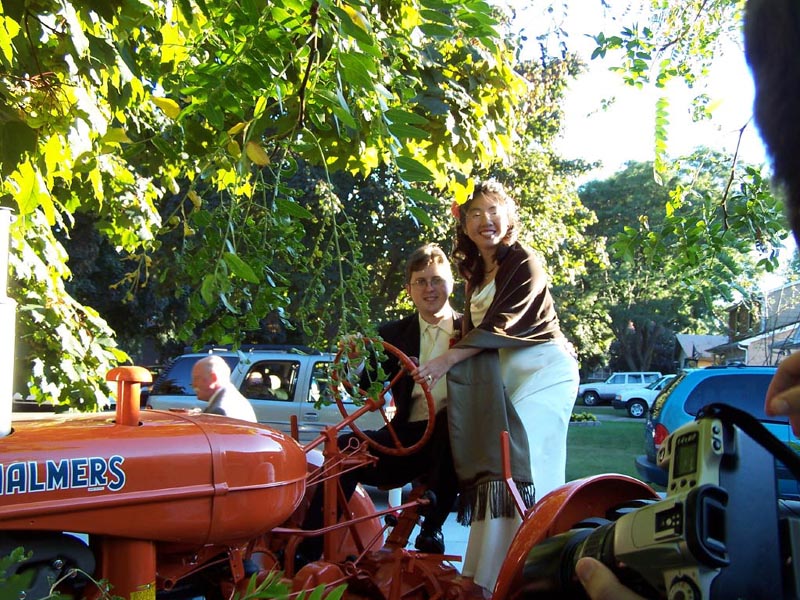 Husband and Wife, with dad and tractor

The food was good, the beer was good, and it was really cool hanging out with everyone. My dad's restored tractor also turned out to be a big hit for picture taking.

That night Lin-Wei and I drove back to Chicago, because the next day we were flying to Italy!

If you'd like to see more wedding pictures, click on the wedding link below.